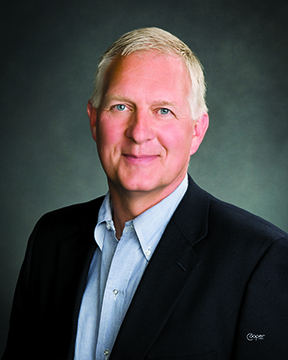 As 2019 comes to a close and we prepare for 2020 there are so many things, all of us at OCCU, are thankful for. At the top of the list is YOU, our wonderful members. Thank you for your loyalty, confidence and support. We continue to grow at a rate of 10% annually. Every month when I review the new member comments 45% to 70% of them say it was because an existing member suggested OCCU as a great place to go. Thank you for this vote of confidence and keep up the great work. This confidence has allowed OCCU to expand and operate in 4 counties in Washington (Mason, Grays Harbor, King and Thurston). It has allowed us to continue to support these communities in so many different ways. We purchased two K9s for Shelton Police, one K9 for Aberdeen Police,
financial support for
the local YMCA, financial support for Summit Pacific Medical Center in Elma and countless community-based volunteer hours that will most likely surpass 1,700 hours for 2019 . You can expect the same community support and much more from OCCU in 2020.

Speaking of 2020, there is so much in store for OCCU and our members, it's exciting and right around the corner! One small step for technology and ONE GIANT LEAP for MEMBER EXPERIENCE.
For over 18 months, t
he credit union has been preparing for software upgrades that we will be performing in the first q
uarter of 2020. At the heart of it all will be person centric banking where you will be able to access all of your OCCU accounts under one login. Included in this will be improvements of your the digital banking experience, online and mobile banking will be consolidated into one platform.

You talked, we listened and are upgrading our systems so we can remain relevant and meet your needs of not only today, but well into the future. We need help with only one part of this and it is a critical part. We need your patience as we roll out and move through these improvements. The effort by our employees to prepare for these upgrades is nothing short of amazing, with this said there will still be some bumps and if we knew where to find them, we would fix them now, as in right now! Unfortunately, it does not work this way. So, as we head into 2020 please remember we are committed to doing our best and providing you with the most current, up to date financial services available as we grow with you and help you create your future, with OCCU. We are in this together.

Thank you for choosing OCCU and being a member here, we know you have choices. You have our commitment that we will work diligently to continue to deserve your business in the future. Best wishes for a wonderful Holiday Season! Merry Christmas and may you be blessed with Peace, Happiness and Fulfillment in the New Year… and remember keep your eyes peeled for our Technology Tree for details about the upcoming upgrades.